June 2, 2021 | Winemaking | Pam Walden
What is whole cluster fermentation?
The first time I fermented pinot noir with 100% whole clusters, it was by accident. In 2015 I contracted for just one acre of pinot noir from Lia's Vineyard in the Chehalem Mountain AVA. The vineyard is dry-farmed and it was a warm year and the yield from that acre was almost exactly two tons, which presented me with a bit of a dilemma. One macro fermenter bin holds about a ton and a half of destemmed fruit. If I'd removed the stems the fermenter bins would have been only two thirds full, leaving lots of "head space" above the grapes, which isn't good for a healthy fermentation. Leaving all the stems on would give me two fairly full fermenters, so instead of running the grapes through the de-stemmer, we just loaded the whole clusters into the fermenters. Which left me with another dilemma… how to get fermentation going?
When you pull the grapes off of the stems, the must is fairly juicy and it's easy enough to get a punch down tool in there to move the grapes around and get fermentation going. With 100% whole clusters they just kind of sit there: just a huge pile of grapes, so I had to get my shorty shorts on and tread the grapes with my feet to juice them up a bit. Here's a clip of me doing "pigeage" in 2015.
Two years later, the wine had the additional tannins and spicy flavors that I was expecting but it also had some beautiful floral aromatics. I've been choosing to do some degree of whole cluster fermentation most vintages since 2015. The 2019 RIbbon Ridge Pinot Noir has a fair amount of whole clusters in it. I like the additional structure and spicy characteristics it gives the Wadenswil clone pinot noir from that vineyard.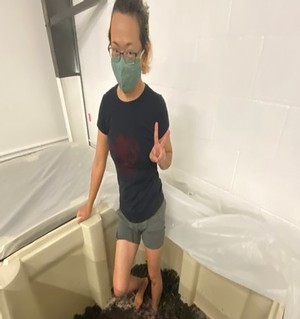 Sign up for our annual Blending Workshop on June 5th and June 10th, and I'll tell you more about whole cluster fermentation and some of the other choices I make as a winemaker to create the Willful pinot noirs. During the workshop you'll taste through eight barrel samples and then blend your own bottle of Pinot Noir. Space is limited and by reservation only.