Life is an ever-unfolding story…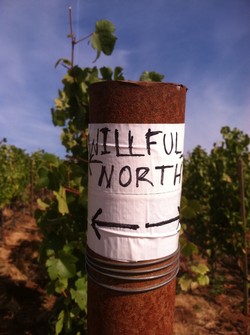 Willful Wine began when a pair of soft hazel eyes wandered in to a remote ferme auberge in the Dordogne, France.
In 1996, after getting canned from a job working for a movie producer in London, and after a short stint playing the piano in a hotel in The Channel Islands, Pam Walden was working as a waitress at a farmhouse restaurant. It was six miles to the nearest village but the business had a listing in Fodor's guide to France and Aron Hess, a handsome young American, made his way to it, in search of a promised six course tasting menu of local and foraged ingredients. He was so full of life and so engaging, that when he turned his beautiful hazel eyes to Pam and asked if she'd like to join him on his visit to Bordeaux, she couldn't resist. Their first date was Pauillac in Bordeaux; their second was Paris, and that was that…
A year later they drove around Oregon, looking for Pinot Noir. They knew they wanted to start their own business but starting a winery without a substantial amount of money seemed like a pipe dream, until they visited some of the smaller wineries in the Willamette Valley that had followed their passion and started small. So, in 2000, they bought about a ton and a half of Pinot Noir grapes from Phelps Creek Vineyard in Hood River and made their first fermenter of Pinot Noir. Four barrels. Ninety-seven cases.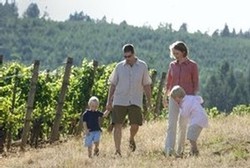 The winery back then was known as "Daedalus Cellars", a name pulled from a novel by James Joyce, one of Aron's favorite authors. Production increased year by year with purchased grapes, until finally, in 2008, they planted the first seven acres of their 17-acre property in the Dundee Hills. However, life happens, as it does, and in 2009 Aron and Pam divorced, and in 2011 Pam took over the winemaking and created Willful Wine with the harvest of the first crop from the estate vines.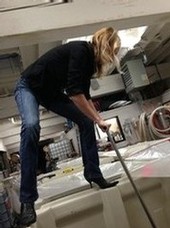 The winery name is "Willful" because she's willful and so is Pinot Noir; it's a notoriously fickle and challenging grape to work with. Pam's 'willfulness' was definitely useful as she took over the cellar. She had helped with harvest every year but taking over the winemaking role was a challenge. She would go to class at Chemeketa Community College in the winter and spring terms of 2012, where she'd learn how to cold stabilize white wine, or filter wine, and then she'd be in the winery the next day doing it on her wines. It was surely a trial by fire. Every year is a new opportunity to learn, and she has now developed her own style focusing on native yeasts, whole cluster fermentation and minimal intervention winemaking that focuses on the wonderful grapes that we work with.
When Aron died tragically young in 2013, Pam decided to sell the estate vineyard so she could spend more time being a mother to their two small boys. Pam and the boys moved to and Willful Wine became an urban winery. After sharing space in some of the other urban wineries, Willful Wine moved into our current home in NE Portland.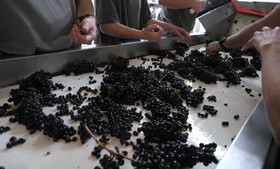 Annual production is now around 7000 cases a year, split between the Willful and Jezebel brands. We source from some of the best vineyards in the north Willamette Valley, Umpqua Valley and Walla Walla, and our winemaking practice focus on low intervention methods and native yeasts that support the fullest expression of the fabulous grapes that we work with.
In May 2023, we added a new wine bar at The Grant House in Vancouver, WA. Built in 1850, the Grant House is a beautiful historic building with a wraparound porch overlooking the Fort Vancouver Park.