March 2, 2021 | Winemaking | Pam Walden
What is a grape clone?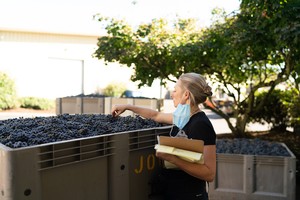 The best way I've found to explain grape clones is comparing grapes to roses. A rose is a rose, but there are different types of roses, and each has their own unique characteristics in how they look and smell. Similarly, the different clones of pinot noir are all pinot noir, but each have their own attributes. Some are more floral and some more spicy. Some are earlier ripening and tend to be more fruit forward, and others are later ripening and are more expressive of some of the secondary flavors in grapes. And.. because it's pinot noir in Oregon, each clone will express itself in a different way depending on the site where it's grown. So.. there's a lot of choices to be made before we even start to get in to what we decide to do in the winery!
In 2019 I chose not to blend a Winemaker Cuvee pinot noir, and to focus instead on a three different clones of pinot noir from three very different vineyards and I bottled three "reserve" pinot noirs from 2019, all very much with their own personality:
2019 Dundee Hills Pinot Noir: This is 100% Pommard clone pinot noir from the Balanza Vineyard in the Dundee Hills AVA. Pommard was one of the earliest clones to be planted in Oregon. It tends to be later ripening and maintains acidity pretty well. It has a soft, supple mouthfeel and when grown in the jory soils of the Dundee Hills it shows the typical bright red berry flavors of the AVA with a floral (rose?) aroma and a bright minerality. This wine is pretty and elegant and very feminine. We released this last November to the wine club and it's now available generally on our web site. $35 (47 cases produced)
2019 Ribbon Ridge Pinot Noir: This is 100% Wadensil clone pinot noir from Stewart Vineyard in the Ribbon Ridge AVA. This is the other clone that was planted in the early days of the Oregon wine industry. It tends to be very aromatic with a particularly spicy note. I think it works wonderfully with the darker red fruit flavors and slightly richer tannins of this Ribbon Ridge vineyard. We just released this to the wine club. It will be generally available on the web site in April 2021. $35 (98 cases produced)
2019 "943" clone Pinot Noir: This was my first time working with this newer pinot noir clone. I tried to research it online prior to working with it and found such varying responses to it. It seems to be particularly expressive of the terroir where it's planted. I found it in Jubilee Vineyard in the Eola-Amity Hills. I fermented it as 50% whole clusters which seems to add to what I think is the inherent peppery characteristic. Early on, it tasted almost like a Zweigelt. It's lower in alcohol (just 12.5%), with flinty, mineral characteristics and dark fruits. This is also a new release to the wine club and will be generally available on the web site in April 2021. $35 (47 cases produced).
I love working with (and drinking!) pinot noir because it can be such an expressive grape. At its best it has so many different layers of flavors. I like it when it's not overly showy. I'm not sure who described it this way (maybe Aron?) but I like it: "wines that reveal themselves over time". It doesn't smack you in the face with a big dollop of jammy fruit, or whack you over the head with a 2*4 of oak. It gently allows you to enjoy the floral perfumes, the hint of sandalwood and the suggestion of the freshly dug earth. I love wine that I find myself thinking about the day after I drank them and I find that more with pinot noir than most other varietals. Whatever your reason for drinking pinot noir, I hope you enjoy these. Regardless of clone, terroir or whatever, the only really important thing is - do you like it?
If you're interested in finding out more about pinot noir clones and about how we make decisions in the winery, please join us for our blending workshop on May 15th. We're offering it live at the winery, or online. If you plan to join us online, please sign up by May 1st so we can get the wine to you in time.