March 15, 2021 | Recipes | Pam Walden
Lentil and Sausage Soup recipe from Balanza Vineyard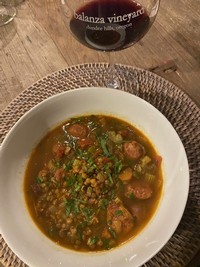 Chaly and I love lentils. We have enjoyed this recipe with the simplest and most accessible Oregon Pinots and also some of the most coveted Oregon Pinots. While we are Dundee Hills people, the earthiness of lentils lends itself really well to some of the wines from our Yamhill Carlton or Ribbon Ridge natives. During quarantine, we could not find lentils at the store for 2-3 weeks and I got so nervous that I found a Washington state grower that sold online via amazon and bought a bulk amount of Lentils. We just finished them off a week ago.

Balanza Family Lentil Soup
Ingredients:
2 cups Lentils
5 cups chicken stock (we like better than bouillon low salt with water)
Linguica Sausage (11 oz package)
1 green pepper
2 medium carrots
1 medium yellow onion
2 stalks of celery
2 roma tomatoes
2 large cloves of garlic
2 tsp cumin
1 tsp smoked paprika (we use Bolivian Ahi but when we don't have it smoked paprika is nice)
1 tsp cayenne pepper
3/4 tsp tunmeric
1/2 tsp ground coriander
2 bay leaves
parsley
pinch of nutmeg
olive oil
salt and pepper to taste

Dice all vegetables (including the tomatoes)
Slice the sausage links
In a large stock pot, sauté the green pepper, carrots, onion, celery, garlic in a little bit of olive oil until the onions are soft but not brown.
Add diced tomatoes, broth, spices, and lentils.
Bring everything to a nice simmer
Add the sliced sausage and simmer for 45 minutes to 1 hour
Salt and pepper to taste
Stir in some chopped parsley (1/4 cup)
Garnish with parsley
Serve with crusty bread
Note: if you prefer lentils as a side dish rather than a soup, don't add as much broth.