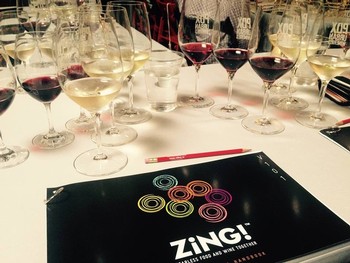 "ZiNG!" is a food and wine pairing concept based on chemistry. It breaks down wine and food in to their fundamental elements and looks at how the structural components of each interact with each other.
We'll sit and taste through a selection of wines and identify the structural components within each, and then see how they react to different basic food elements. It's fun and you'll walk away with a new approach to pairing wine with food that you can use anywhere.
The workshop has limited capacity, so please sign up early. Tickets are $65 per person (club discounts apply for wine club members and their guests).
All attendees will be offered a 10% discount on all wine purchases on the day of the workshop.

You can read more about ZiNG! in this article from The Oregonian, or at the ZiNG! web site.
Katherine Cole article on ZiNG!