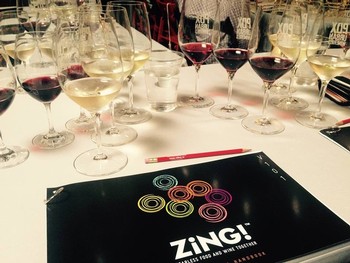 "ZiNG!" is a food and wine pairing concept based on chemistry. It breaks down wine and food in to their fundamental elements and looks at how the structural components of each interact with each other.
We'll ship you four wines together with our workshop instructions so you can connect with us from the comfort of your home via Zoom. You'll follow along as we identify the structural components within each wine, and then see how they react to different basic food elements. It's fun and you'll walk away with a new approach to pairing wine with food that you can use anywhere.
Four bottles of wine include: 2019 Jezebel Blanc, 2019 Jezebel Pinot Noir, Chardonnay and Cabernet Sauvignon. There's enough wine for up to 6+ people so invite whoever is in your bubble and join us via Zoom for a fun and educational evening at home! Cost of the virtual workshop is $100 per package + shipping.
Workshop will be 4 to 6pm PCT Saturday 17th April 2021.
You can read more about ZiNG! in this article from The Oregonian, or at the ZiNG! web site.
Katherine Cole article on ZiNG!