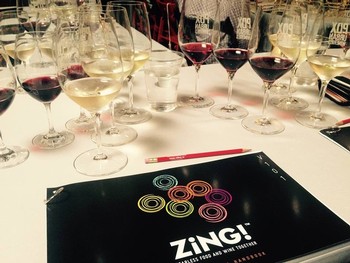 "ZiNG!" is a food and wine pairing concept based on chemistry. It breaks down wine and food in to their fundamental elements and looks at how the structural components of each interact with each other.
We'll sit and taste through a selection of wines and identify the structural components within each, and then see how they react to different basic food elements. It's fun and you'll walk away with a new approach to pairing wine with food that you can use anywhere.
The workshop has limited capacity, so please sign up early. Tickets are $40 per person, $30 for wine club members and guests. Workshops will be on Saturday 20th November and Saturday 11th December 2021 at 10am, with a special emphasis on food pairing for the holidays.
After the workshop, you're invited to stay and taste through our current wines and you'll receive a 10% discount on any wine purchased at the event.

You can read more about ZiNG! in this article from The Oregonian, or at the ZiNG! web site.
Katherine Cole article on ZiNG!
Product Reviews
Kathleen Cacouris
(Aug 31, 2020 at 12:39 PM)
Amazing experience highlighting the science behind why certain foods and wine pair well. Not just flavor profiling. This workshop was so helpful I felt like a sommelier afterward in my ability to successfully pair food and wines. It was also FUN.